Terra's potential coin Luna is competing more and more coins as the days pass by. The coin is on watch lists of many, and its potential and has made its all the way up to #14 among other coins which is a milestone for the founders and their team.
Currently, when Bitcoin is suffering to rally further down, this coin Luna has made its all-time high recently on 10 September 2021!
Talking about what the coin is performing currently and what might be the potential in the upcoming days.
The coin has made its all time high now and needs to do a correction as along the way to this high, it has left gaps in between, where buyers surpassed the sellers, leaving inefficiency in the market.
The coin now as being under BTC influence and other points seems to be showing a bearish power in control.
Technical Analysis Luna
The price was following and respecting a channel which led to a market fake out recently inducing buyers which were taken out as they were jumped in early seeing the breakout. but the movement and behavior of price is and should be always a priority, as the market just cannot move without corrections. The market now is in a Wyckoff distribution phase, and after that, a possible bearish move can be expected. now the price has tapped and rejected from support within the confluence with the trendline.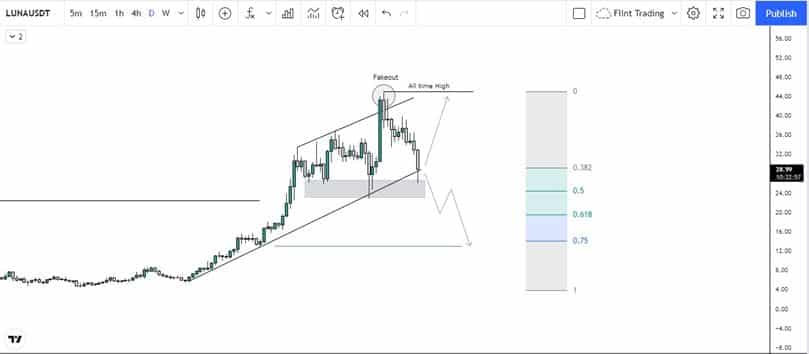 Even the momentum is quite strong, still, both these confluences might act as a barrier for price. now if there appears any bullish evidence price is likely to retest all time high respecting trendline and support. and otherwise, if the price shows bearish evidence and breaks through the support, it is very likely that the price will continue down to $13.15 as its in confluence with Fibo level of 0.75
Key levels to watch
The main key levels to watch for Luna are the retracements level according to the Fibo and the price may show a spark at these levels. Watching these more closely can show us a better result. If a reversal occurs we can look for a long at this point. Otherwise the coin can retrace back to the levels shown in the chart. The order block (grey zone) is currently acting as a support and can provide a bounce for the price.