The fact that every other chart looks exactly the same and resemble BTC (except SOLANA of course) gives us an idea how beautifully they are coupled with the movements of BTC and also how early it is in the crypto markets. It would be nice to see every other coin have a movement of its own.
Back to the topic at hand – BNB. The native coin of Binance platform. One of the most widely used exchange currently. The price of the coin is reflection of this fact itself. Listed at no 5 according to its market cap, BNB sure is one of the traders favorite (Binance allows incentives to traders who hold and use BNB on their platform as well)
How is BNB reacting?
BNB created its ATH around $700. As like other coins and tokens, it also suffered when BTC crashed. An important zone to notice is around $500 and $530, where the formation of order block has taken place. This broke the previous low and resulted in the shift in the market structure on a daily time frame. It has been noticed that order blocks are touched again and price can show a reaction from that level. It can be easily seen that price retraced back to that level and dropped twice from that level forming a double top pattern. The second top was the indication for the price to drop down further again. After that level the price went into consolidation zone for a few days and the broke again towards the down side. It can be noticed that all along even during the formation of double top, BNB was respecting the trend line but before the consolidation after the second rejection from the order block level the price broke the trendline and hence lost its support.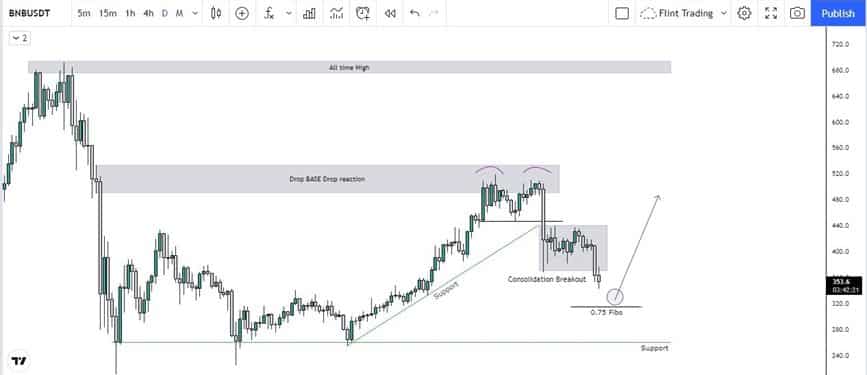 How will it play out?
Two possibilities come to the mind while looking at the chart of BNB. First that the price will drop down to the Fibo level of 0.75 and then bounce from that zone. Second that the level doesn't hold and it will drop down to a much stronger support level. By playing the levels we can look for good entries along as the price unfolds. Looking for reversal signs at both of these levels can help in making better decisions.