ANKR provides solutions to deploy blockchain nodes at a very cheap price as compared to other systems. It uses the idea of shared resources. ANKR aims to build a network and a marketplace for Web 3 Stack Deployment which is going to allow end-users and resource providers to connect to the blockchain and De-Fi applications.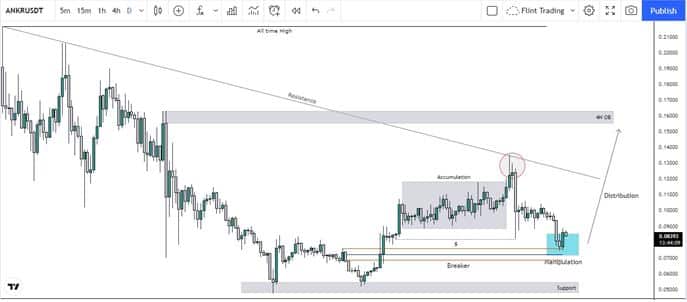 ANKR Movements
ANKR is ranked at 114 according to market cap. ANKR has had an amazing run in the past. In March 2021, the price reached a tag of almost $0.215. The price had this move from almost $0.0045 within just 2 months giving amazing runs. At the time of writing the coin is being traded at a price of $0.08427 with an increase of 3.31% in the last 24 hours and an overall decrease of 15.95% in the last 7 days.
How can the price react?
On a broader look, we can see that the price was ranging below a trend line which was acting as a resistance. Every time it touched the zone it couldn't break it and hence suffered from a drop.  We can see that the price was in an accumulation zone, it tried to break out but when it touched the trend line it broke down. At this point, it went down even further. The price touched the support at this point and wicked (closed in the consolidation zone). But eventually, the price broke it too as the momentum shifted (also this whole scenario happened when Btc dropped too).
An order block formation can be seen in the zone above and the price may move to tap it. But in the way, ANKR is going to face a few resistances. The first one at $0.10. Then $0.11 and of course the resistance due to the trend line. It needs huge momentum to break it. So these points should be carefully seen and any market structure change should be noticed at this point. If the market stays stable we can expect ANKR to break upwards and touch the trend line. Whether it can break it or not is still unclear and the price needs to unfold to get a better idea about how the price may react at that point. The support is shown in the chart. If this level is broken we can expect it to go down and the zone from where the price showed a reversal before.