Ah yes DogeCoin! Ah yes influence!. The coin that screams memes, Elon and that is it. The coin that started as a joke now stands at 10th place according to a market cap of almost $3B. Positive news has been in the way for Dogecoin since Elon's tweets made the coin skyrocket. Dogecoin currently has no cap on the overall coins and hence every hour new coins are minted. Elon had tweeted in the past that he plans to bring positive changes to the coin and make it useable for everyone. These successive tweets from Elon had made Dogecoin popular in the mass community and as a result, a huge amount of influx had happened.
DogeCoin's Run to ATH
Doge has been under the radar of a lot of influencers. Influencers who have the power to bring changes in the market. As a result, Doge had an insane run and reached a price of $0.73. The fact that at one point Doge had a value of $0.11 and now having no zeroes to reach $1. Currently, at the time this article is being written Doge stands at the price of $0.2246 with an increase of 9.08% and an overall decrease of almost 20% in a month.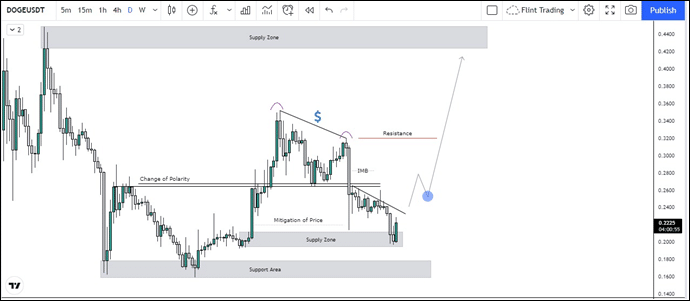 Dogecoin Technical Analysis
The Dogecoin movement has been highly deceptive in nature possibly because of the fact that how much volatile it is and how much fundamentally it changes (influences). But if I was to divide the chart I'll draw around the area of $0.26 and $0.27. Every time it crossed this level fast movements have happened to either side. The market created a down trend  and created liquidity above that zone. It seems logical that the market would move in such a way that it will grab it. Currently, the price is around a supply zone that can provide a bounce to the price. As said before the level around $0.26 and $0.27 is important hence if the market reaches that level then signs of reversals should also be looked at (both possibilities should be taken into account). If the market is making moves upwards then normally a retest is expected to happen. The first major resistance to the price is around the price of $0.26 and then $0.30. Doge can show reaction at both of these levels. A strong support lies at $0.15-$0.16 from where the market showed reversal.