Ethereum is the second biggest coin in the market after Bitcoin. Having a 4 digit $ value, ETH sure is a feat in itself. Being one of the most widely used blockchain for new tokens and projects, Ethereum has the undivided attention of investors as well as developers hoping to launch their own crypto projects. With their new update to decrease the gas and new projects launching every other week and new collaborations, Ethereum sure is one of the safest investments in the crypto market.
Recently the whole market crashed and ETH along with other coins also dropped down. ETH had dropped almost 10% marking the lowest price since early August and came close to near $2700. Even coins like Ada and Sol had retraced down.
How can ETH react?
The place where ETH is right now is one of the strongest support for the coin. It can be seen in the chart that in the past Ethereum has bounced from this zone a lot of time and when this zone got broken down Ethereum dropped really hard and reached a price of $2400 or below. Ethereum had dropped down from the price of $4000 and back to this support zone. So this zone holds the importance of having its part in defining how the price can react in the future. ETH had formed a head and shoulder pattern with its head around the price tag of $4000. This pattern has now played out by knocking ETH down.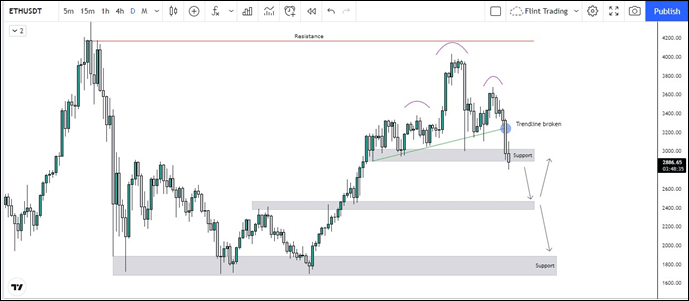 Another point to notice is that Ethereum had broken down the trend line towards the downside. As a result, it had lost its support from this. It can be seen that how ETH had respected this line and stayed above it and bounced from this line too (when it reached $4000).
If the market stabilizes at this point that probability is that Ethereum is going to bounce from this point and move towards its next resistance. But the fact that the market is still down is a fact in itself and can damage the market even more. Currently, if ETH bounces back from here then the first key level to watch is $3300 and $3600. If Eth loses its support then we can expect it go down to the next area that can be played i.e. $2900 and $2400.
At the time of writing, according to coinmarketcap ETH stands at a price of $2800 with almost a decrease of 6% on DTF.