Polygon (Matic) is one of the strongest coins in the market. Matic provides scalability to the Ethereum network. Matic has converted ETH blockchain into a multi-chain system. Ecosystems like Dot, AAVE, Atom have a similar network. Since the project is backed by Binance and CoinBase we can say that the base of this project is very strong and hence it isn't going anywhere and will continue to grow. It will continue to grow and provide security and enable governance to different eco systems.
Polygon (Matic) – History
Matic is listed on coinmarketcap at 23 according to market cap. At the time of writing Matic is being traded at a price of $1.21 with an increase of 14.36% in the last 24 hours and an overall decrease of 12.62% in last week. Matic is one of the strongest coins in the market. Even when the market was red and bleeding ADA and Matic were printing green candles.
Matic had achieved its All-Time High at around a price of $2.7 in May 2021 before falling to near $0.5. The price showed reversal and created a move towards the upside and reached a price of around $1.8 before retracing back to the current price.
Polygon – Possible Routes
The chart below shows a lot of things. Supports, Resistances and possible movement. The ATH an be seen in the chart and will allow price discovery if it breaks.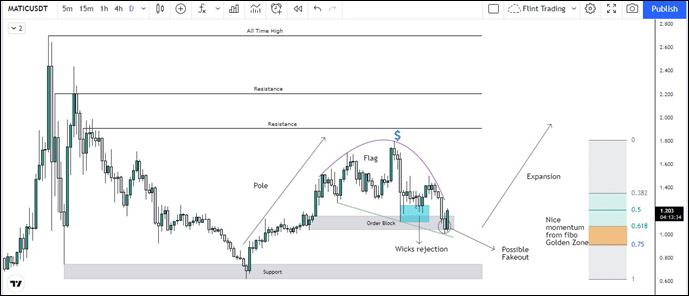 The nearest major resistance for the coin is around $1.6 and $1.7. This was this point which started the avalanche towards the bottom.
A lot of confluence about the market movement with a probability of moving upwards (in case the market stays stable and Btc doesn't mess). The first thing to notice is that Matic has respected the trend line and showed a bounce from there. Second thing to notice is the formation of order block. The wicks got rejected (as shown by the blue area) creating liquidity. Now the price had an extra reason to come down and tap the order block, which it did. Now the price can show a bounce from this zone.
On an even broader picture. The price had formed a pole flag pattern and it has formed the first pole and flag giving and retraced (that in an order block hence a confluence). When a Fibo level is drawn from the explosive move, we find that this zone is also a golden zone. Like always other scenarios should also be taken into account.