TRON past and current movement
TRON's native token is Tron (TRX). At the time of writing TRX stands at the price of $0.09649 with an increase of 5.88% in a single day and an overall decrease of almost 7% in the past week. TRX created its ATH around the price of $0.18 in the month of April. The market shifted after the drop from the supply zone above the current price. This means that this zone is very important in determining how the price can deliver in the future.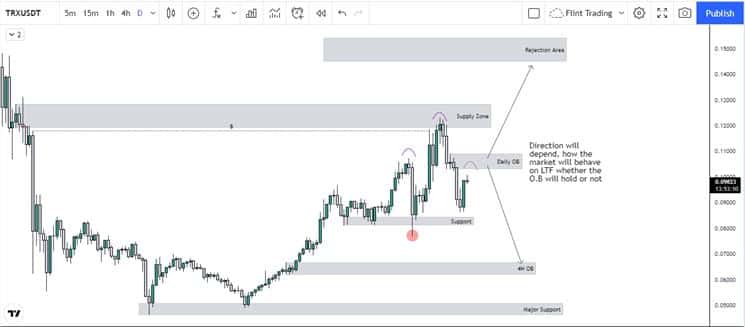 Technical Analysis of Tron (TRX)
The nearest strong support lies around the zone of $0.8. The price has bounced from this zone quite a mot and the two momentous moves towards the upside also generated from this zone too. Now the price is bouncing from here and moving towards the order block.
Two possibilities arise from this order block and can somewhat define the future movement of TRON. Three zones lie around this Daily Order Block. The supply zone and projection zone towards the upside. The 4H order block on the lower side.
If the daily order block holds we can expect the price to move towards the supply zone. The price can show a reaction from here. If it breaks the supply zone too and become stable above then we can expect the price to move towards the projection zone. As such this movement will take TRON out of the current range and investors and traders can play in the new range.
If this order block doesn't hold then we can expect a movement towards the down side and touch the support again. If it breaks then we can go down the 4H order block. If this happens then we would still be playing in the same range as before. The strongest support lies at the bottom from where the market showed reversal.
About TRON
TRON is  a block chain network system that aims to make sure that the network can be used in daily life. TRON boast that they carry out more transactions per seconds than Btc and Eth (Around 2000 tps, according to coinmarketcap).
It is a decentralized platform that focuses on entertainment and content sharing. Overall their whole project is divided into 6 phases these include file sharing, driving content creation and some other. TRON is one of the most popular platform for building DApps.