LTC Current and Past Situation
LiteCoin (LTC) at the time of writing is being traded at a price of $149.03. There has been a decrease of 9.03% in the past 24 hours. Just like most of the coins LTC has also suffered from the crash. LTC had created its ATH around $413 and dropped to a bottom of about $100. Like some of the other coins LTC has proven to be quite a hard gainer in the market. Coins like Solana, ADA, Luna created their ATH during this correction wave and some coins like LTC, Tel and Trias have failed to recover even a portion of their original price. Ltc has the rank 17 on coinmarketcap according to the marketcap. LTC has a total of 80M coins.
How can Litecoin behave?
The first thing to notice is the supply zone between the area of $280 and $300. The second thing to notice is at the very bottom of the cart i.e. the support zone that has allowed for the reversal twice.  When the market changed its trend it created an order block around $140 to $150. Next it created the H & S pattern (Head and Shoulder) The price during this pattern was unfolding took a minor support but it eventually broke down.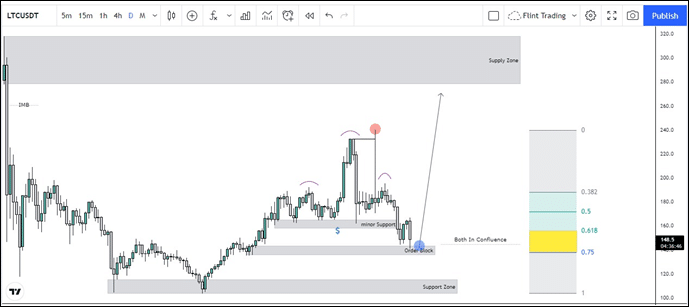 Now the red spot is to notice as well, it shows a SL hitter (Stop loss hitter). These kinds of wicks can liquidate traders very fast and then come back to the original position. When the minor support broke down the price came back to the order block that we have talked about. The price has now tapped the order block. If this zone holds then we can expect the price to show strength and move towards the supply zone while facing resistance around $175 and then $200 and $230. The fact that the golden zone of Fibo ration when drawn also coincides with the place where the order block was formed. So probable chances are that the market can show strength if nothing messes up.
About LTC
Litcoin (LTC) came to existence in October 2011. It was based on BTC protocol. The project is defined to provide fast and low cost transactions. The project was created by Charlie Lee a former Google employee who was also the director of engineering at Coinbase for two years. He wanted Ltc to be the light version of BTC.