At the time of writing Theta stands at a price of $5.231 with an increase of 1.31% in a single day. Higher time frames like most of the coins, theta has a decrease of almost 21% in a month. Theta had achieved its all-time high at a price of almost $15.862 in April 2021. The fact that it had a drop after that shouldn't be of surprise of anyone as most of the coins were damaged a lot. New coins that were launched during that time have suffered the most as most of the coins have vanished and almost went to zero.
Technical Analysis
Theta had created a bottom at around $3.4 and went parabolic from there. A point came where it started to range and hence can be said that it was in accumulation zone. The price tried to break the accumulation but it couldn't hold outside the zone. Even though the candle closed outside the zone but it came down fast and closed again in the zone. But the wick had gone down the zone giving as an idea that a major sell off had occurred. This wick got rejected from $9.6. The zone between $9.6 and $10.6 had acted as resistance in the past as well.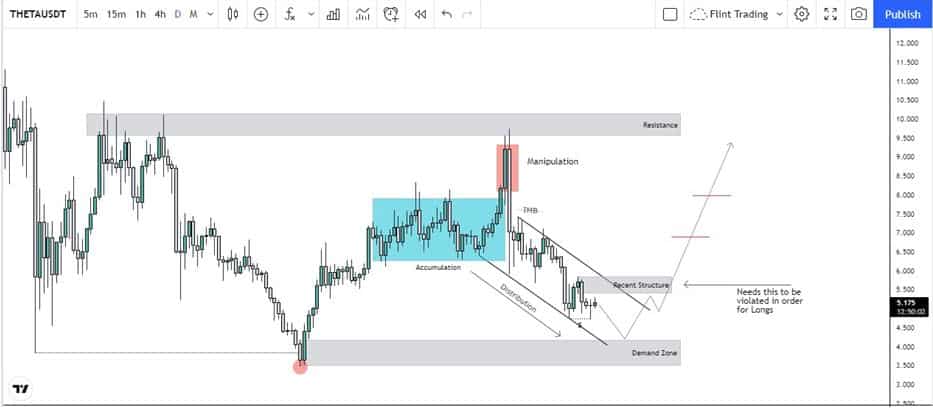 The price broke down the zone and went into down trend respecting the trend line as well. Now the price is forming another structure at the bottom. This is very close to the bottom. If the price wants to move towards the upside, this structure needs to be violated. Either a direct long or a possible tap in the demand zone as well. It has also created equal bottoms and hence liquidity is present there as well.
About Theta
Theta is a block chain powered video streaming service. Developers say that the goal is to provide the customers and content creator a platform where it allows for a better experience overall. It aims to remove centralization, the bad infrastructure and change it for the better. It allows low cost hence the content creators can be paid well.
The network uses two token i.e. Theta and Theta Fuel (Tfuel) to power its ecosystem. Rewards for different activities are also provided in TFuel.
This field was quite untapped when theta made its hold in the industry but now numerous other projects have launched to capture the field and trying to tackle Theta but in my opinion Theta is here to stay.