Past Movement
Filecoin (FIL) at the time of writing is being traded at a price of $61.09 with an increase of 6.33% in the last 24 hours. FIL had made its all time high at the price of $238.20 on 1st April 2021. After that the market showed reversal and fell down to a price of almost $39. The price then showed reversal again and now is at the current stage of price unfolding.
Technical Analysis of FIL
Previously price has reacted in the drop base drop zone. This is a supply and demand pattern. It has been normally seen that the price shows reaction from this zone. Due to the huge amount of orders at this point and hence due to the creation of liquidity, chances are that the market taps this zone again and it did (marked by the red color)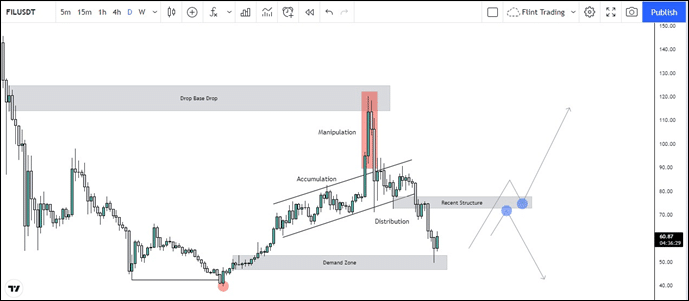 The price touched the bottom and showed reversal. After that the three phases of accumulation, manipulation and distribution came into existence. In other words a consolidation zone followed by an exponential move and then due to this parabolic move profits are secured and as a result the price drops and goes to a slow decline known as distribution. Now the price had went into the demand zone. A critical point to notice is the recent structure zone that lies around the price of between $48 and $52. If the price is to go upward then it is very important for the price to break this level and it would confirm the reversal of market otherwise it can drop down to the bottom again. The wicks in the red zone are the confluence about the drop base zone structure, as a result the market can move towards here (if the structure is broken) but possibly can face rejection.
About Filecoin (FIL)
Filecoin is currently listed on 25th on coinmarketcap according to the market dominance (0.35%) and the market cap. The project was first envisioned back in 2014 and it aims at the storage system as to "store humanity's most important information". Where companies like Amazon, Google are based on centralized systems, Filecoin aims to bring decentralization to the system that allows more security of the data/ In 2017 the project had raised more than $205M during its ICO (Initial Coin Offering). This shows how much investors are interested in the project and how good they consider the project to be. It is based on both Proof of SpaceTime and Proof of Replication.