QUANT (QNT) coin at the time of writing is being traded at the price of$ 282.97. The price had a decrease of 9.03% in the past 24 hours. Today the coin achieved the maximum price of $307.66 and the minimum of $276.37. The coin recently has rallied up very much creating its All-Time High, so now it's in a retrace move of that high price. QNT has achieved its all-time high at the price of $429.695 on the 11th of September 2021 and hasn't been able to break the price since then. QNT works on Ethereum Blockchain. The volume of QNT is around $66,361,853 with a decrease of 24% in the last 24 hours.
Technical Analysis – QNT Coin
The market of QNT was in a bullish trend for a very long time. But now things seems to have been changed, as on 21 of September, the market actually broke the previous market structure that had put the trend from bullish to bearish. Now as the price is within a downtrend, shorts are preferred. There is imbalance down there with quite a large space, so at least 50% or more should be mitigated in order for market to remain healthy. Just below that imbalance zone is a demand zone, which gives an idea that institutions were interested in this zone. So markets might have to mitigate that zone in order for institutions to break even their orders.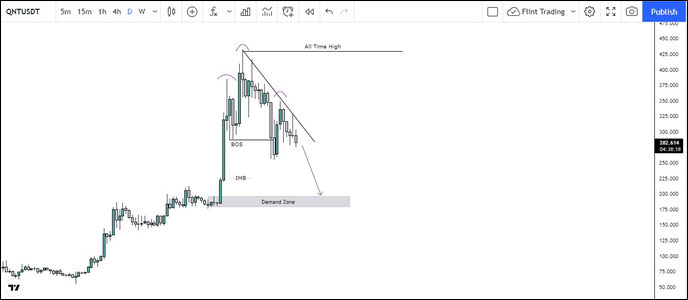 Another confluence for being short is a head and shoulder pattern forming. This may due to mass psychology that induces a large number of sellers within the market making more sense for shorts preference at the moment. Now the other possibility is if the trend line which is currently being respected by the price at several points gets broken with a previous structure, there is a chance that a bearish move is over and a new impulsive bullish move then can take place.
Greed and fear:
Now as being the market has a great fear index, people who understand this might say it is the right time too long, but completing the view, it is necessary that the nearest support of BTC seems to hold. Now if the support zone of 41k$ doesn't hold (possible chances) then it will invalidate the confluences of Btc longing and as being a confluence of Btc on other, it wouldn't seem right at the moment too long QNT here unless Btc finds good support which would be held.