Price movement of XTZ
Tezos (XTZ) coin has been very bullish on higher time frames. Looking at the monthly time frames, XTZ seem to be in bullish trend for long term. XTZ created its all time high at the price of $8.420 during the month of May 2021, but the price couldn't be sustained due to the crash in the market and the price dropped down to the price of $2.430 before closing at $3.606. During the next three months price invalidated the gains of 3 months and retraced back to the price it had in February 2021. At the time of writing XTZ is being traded at the price of $5.707 with a decrease of almost 5.44% in the past 24 hours.
Technical Analysis (XTZ) Coin
The Technical part is not very much clear for this coin. The price recently came back just below from its All time High. Just before falling it clearly made a head and shoulder pattern which makes sense for price to fall to some extent.
Besides that, market actually failed to create a new high and its low got violated so overall looking being in bullish trend, the market actually has reversed to a bearish trend and can be a sign of retracement.
The market is quite momentous to the downside without taking any pullbacks on 4H, so it is very likely that it might respect the trendline which was being respected in the past in order for it to do some sort of pullback. Now in case if it does that again and holds the Trend line, it is very likely that it might retrace back to that daily order block as seeing the sizes of candles, institutions seems to have been enrolled within that. Now to breakeven orders, they might bring to that level.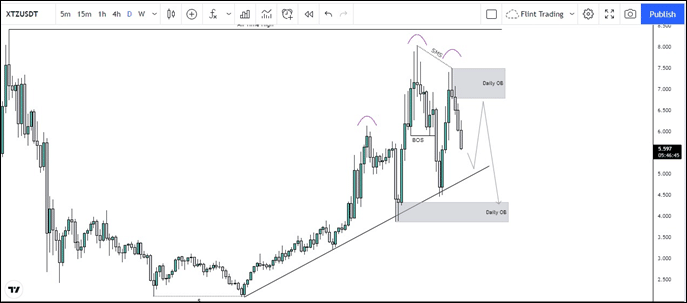 In case if this trendline does not hold (that can be seen on LTF for structure shifts) the market can probably retest the below Daily OrderBlock and from there a bullish move can be expected.
So as being said, the market is in between 2 unmitigated order blocks so a direction is not so clear. Below that price does not seems to have any reason to go as the major pullback of this bullish impulsive has already been completed by the market. Even around 0.715% have been mitigated. It is possible that these two Orderblocks might be reason for price to react.