The CHZ coin had created its All Time High on 8 March 2021 and reached a price of almost $0.9449 before falling down to a price of almost $0.1641 by losing more than 80% of its value. At the time of writing this article CHZ is being traded at a price of $0.2447. The price has dropped almost 33.16% within this month alone and completely retracing back below the opening position of last month candle i.e. august 2021. Currently on a daily time frame 1.29% decrease in the price is being observed.
The Total volume at the moment is $137,155,757 with an increase of $3.47 in the last 24 hours. The coin works on Ethereum blockchain and is being ranked on number 64 among the top coins
---
3 Tiny Stocks Primed to Explode The world's greatest investor — Warren Buffett — has a simple formula for making big money in the markets. He buys up valuable assets when they are very cheap. For stock market investors that means buying up cheap small cap stocks like these with huge upside potential.

We've set up an alert service to help smart investors take full advantage of the small cap stocks primed for big returns.

Click here for full details and to join for free.
Sponsored
---
Technical Analysis CHZ:
Talking about CHZ technical's, on the weekly time frame it can be clearly seen that whatever market is doing at the moment is a correction of the impulsive move that originated from $0.0211 to a massive huge price of $ 0.9448
Now this being in correction, a bearish correction to be specific, shorts are preferred but as the correction has reached and extended from the Fibo level of 0.715. Now as being market at the end of a possible corrections. Possible longs can be taken up. Obviously there are several confluences for longs in the market at the moment.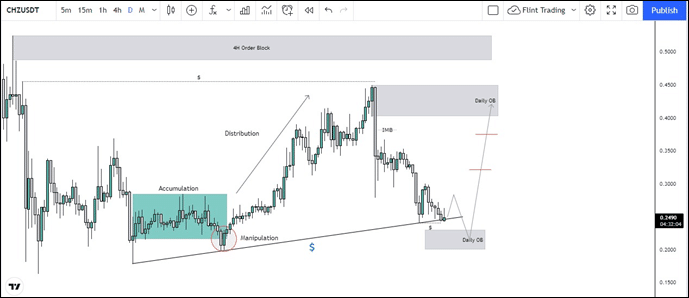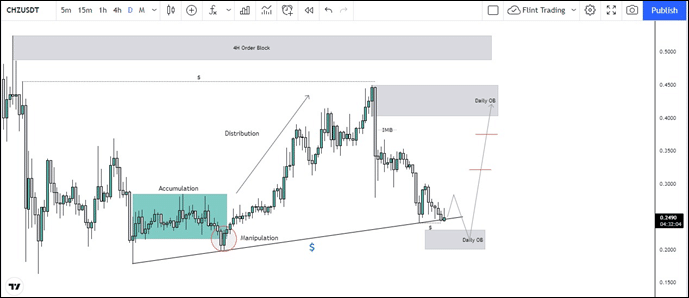 On a daily time frame the market firstly at the possible end of move accumulated, manipulated to the downside and the original move of distribution occurred to the upside. Now it was close to the 4H Orderblock, but an engineered double top was formed which induced liquidity above it, being a target for later days.
Talking about the recent price action of the market, as on 7th September, the bigger institutions seemed to have been stepped in which created inefficiency within the price and it left clear imbalance. Now market is just tapping the trendline which was being respected several times in the past, and seeing this many of retail traders will fall for this. They will be longing this pair from here and its very likely that their orders will be grabbed by the whales.
If the trendline wasn't enough, clear equal lows have been formed which will induce pattern following traders to jump in as well which too seems to be taken out. Ideally price is likely to clear these before rallying upside and a possible better entry can be taken from the daily order block sitting just beneath the liquidity.
Now as the market has targets which are to breakeven big orders, imbalance to be fulfilled, and liquidity grabbed, the price is likely to be bullish in future days. Within this bullish move, the market might face resistances which are laying at $0.3762 and at $0.3206
Now if this plan isn't followed up and the daily orderblock doesn't hold (present at $0.2013) it is very likely that market will continue to the level of $0.0890.