HOT coin is ranked at 74 according to market cap. HOT has had an amazing run in the past. In April 2021, the price reached a tag of almost $0.031600. The price had this move from almost $0.000608 within just 3 months giving amazing runs. At the time of writing the coin is being traded at a price of $0.007484 with an increase of 1.95% in the last 24 hours and an overall decrease of 16. piedmontmastergardeners.org 54% in the last 7 days. The daily trading volume is around $93,380,380 with an increase of 1.47% in the last 24 hours.
What the HOT coin Chart is showing
The market of HOT coin is in a major bullish trend while a minor bearish trend at the moment.
On weekly it may seem that the market is bearish but as the correction being over the market seems to have been shifting the structure. Recently on 21st July the market actually took out the equal lows which were formed to induce early buyers. Now mass psychology says that seeing the pattern of double bottom, most traders might want to get in, but in reality that is just a smart money stop hunt or Wyckoff spring move. As seen on chart, just as soon the stops were taken out, the price rallied to the upside very rapidly, leaving behind demand and imbalance zones.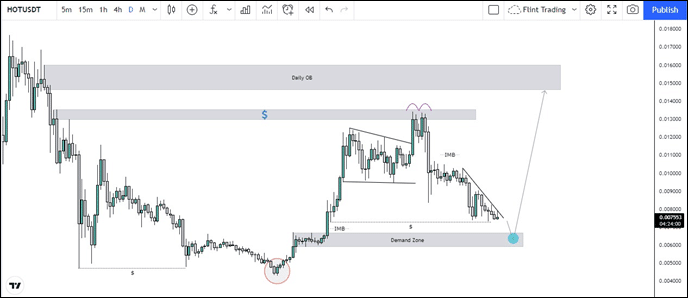 This clearly shows that much bigger orders were placed which are not for normal trader to place. So seeing these footprints, it can be determined that the orders placed there sooner or later be closed. Now exactly what market is doing is creating equal lows. Just as past repeats itself, it is very likely that many buyers might have been entered which might soon be taken out before an another strong momentous impulsive move which can give out some good amount of percentage increase and returns.
The ideal entry lies within the demand zone. Now if focusing on the current price action, the wicks rejection are getting bigger and bigger and momentum seems to have been slowed down giving a hint that sellers have been exhausted. So it is very likely that price might react from this demand zone. Not just that, a previous structure break should be observed before taking in any longs. That will just increase the probability of trade. As trades being a game of probabilities, it is also a possibility that this demand zone might not hold, and if this doesn't the price might fall till $0.003511