At the time of writing RUNE stands at a price of $6.46 with a decrease of 4.13% in a single day. Higher time frames like most of the coins, rune has a decrease of almost 34.45% in a month. Rune had achieved its all-time high at a price of almost $21.280 in May 2021. Rune on coinmarketcap is listed at 66th rank. The daily trading volume is around $52,096,082 with a decrease of 13.11% in the last 24 hours
Technical Analysis – RUNE
The overall market on the weekly is bullish now. Recently it has completed a correction wave of impulsive which made the all-time high of this coin. Now as the correction wave is over, the longs are preferred. On the weekly time frame, the market has already showed a shift in structure to the upside. On the daily time frame, the market within the correction move has left an imbalance within the candle of 19th May which serves as a reason for a future target.
The first structure break to the upside was observed on 4th August. Just before that, the market was creating lower lows and lower highs and the last move stop hunted the traders and rallied upside. Now as I said before within this impulsive move, there were left some inefficiencies as well, which currently will be a very vital confluence for entry.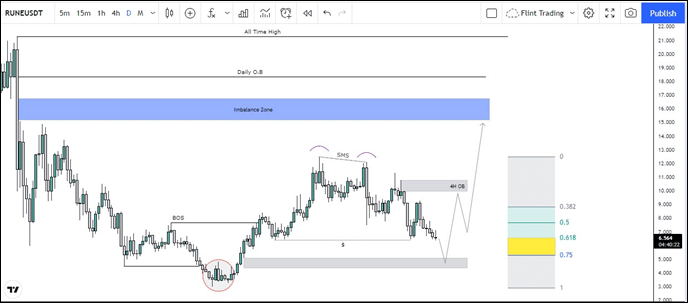 First imbalance was discussed for a target while this one is for entry. On 9th, 12 August, and 21 September, the market got supported by the level of $6.410. This is being has become a point of interest retailers must have been longing from this pair which is not suitable. Market now seems to be breaking this level. Just below this, the imbalance is lying which as mentioned before will serve as a reason for entry. This is being with the confluence of golden zone makes more sense that this level might hold.
Possible resistances which the price might get are from the 4H order block present at $9.970 to $10.762  and the imbalance zone which is the target.
Now if the imbalance zone doesn't hold and on lower time frame structure shifts are not observed, the price may keep falling more till the level of $1.477
Long Term
According to walletinvestor.com this coin is a good investment in virtual currencies with a good return. Seeing the price of RUNE at the moment, they believe that that the value might increase from $6.466 to $52.73 dollars by the start of 2026. With a 5-year investment plan that will be around +715.5%