Waves is currently ranked at number 53 according to coin market cap data. The daily volume at the time of writing is almost $88,797,337 with a decrease of almost 48.97% within the last 24hours. It has a circulating supply of 106,302,640 WAVES coins. The coin had created its All Time High on 4th May 2021 and reached a price of almost $41.86 before falling down to a price of almost $11.69 by losing almost 75% of its value. At the time of writing this article, WAVES is being traded at a price of $23.45 The price has dropped almost 16.71% within this month alone removing the gains to some extent that it had in the last month when it gained almost 70%. Currently, on a daily time frame, a 0.87% decrease in the price is being observed. The top exchanges for trading in Waves are currently Binance, Huobi Global, Mandala Exchange, OKEx, and FTX.
How the WAVES Price might React?
On the monthly time frame, a clear bullish impulsive move is being observed which was the reason for WAVES to make its recent all time high. As that impulsive move had to end somewhere, it did and afterwards a correction is being unfolded.
Top 5 EV Tech Stocks to Buy for 2023

The electric vehicle boom is accelerating – and fast. According a new report published by BloombergNEF, annual spending on passenger EVs hit $388 billion in 2022, up 53% from the year before. Like we said, the boom is accelerating – and the time to buy EV-related tech stocks is now. Get our free report, "Top 5 EV Tech Stocks to Buy for 2023".

Click Here to Download the FREE Report.
Sponsored
The correction also seems to have possibly be ended as Fibo which is drawn from the low to high, it can be observed that the price from the golden zone pumped up again. Now currently the monthly candle of August was a bullish candle that engulfed the previous few bearish and bullish candles, so for the market to remain healthy a correction to at least 50% is needed which has been now possibly be completed. Moving to the 4H time frame the price has made a support-inducing buyers so possibly liquidity is present just below that which is very likely to get grabbed sooner. Now as being the minor bearish trend, possible Wyckoff accumulation will occur, in which spring move might clear this liquidity and eventually tap in the below daily order block from where a possible reaction can be expected.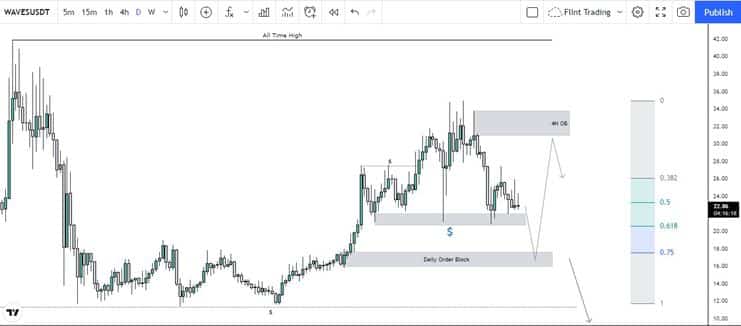 Now, this daily orderblock also aligns with the golden Fibo ratio so it increases the probability for the market to get at least some sort of reaction.
Now once this order block gets respected and on lower time frame market structure shifts are observed, possible longs can be taken which might get exhausted around the 4H order block present at $31.06 and possible reaction can be expected.
Now all of this plan will be invalidated if Lower time frame confirmations and bullish evidences are not observed within the daily order block. If this zone doesn't hold, then it is very likely that price will take out liquidity which is present at $11.28 as on different dates this level was respected and it is not that it always be held, and a possible bunch of stop losses of traders are present below that which can be the target of price.