The MANA coin had its ATH around the price of near $1.670. After that, the market crashed and the coin attained a value of $0.3715. The market showed a reversal and had its leg up to a price of around $1.0809 and then dropping again to where it is being traded at a price of $1.670 at the time this article was written. The price has increased about 8.90% in the last 24 hours. The volume has increased by 15.57% in the last 24 hours. On higher timeframes, the price has dropped by 26.83% in the last month closing below the monthly opening of August.
MANA – The Chart movement and Price Prediction
The price in daily time frame has started to pump up after forming liquidity to the downside i.e. double top.
---
3 Tiny Stocks Primed to Explode The world's greatest investor — Warren Buffett — has a simple formula for making big money in the markets. He buys up valuable assets when they are very cheap. For stock market investors that means buying up cheap small cap stocks like these with huge upside potential.

We've set up an alert service to help smart investors take full advantage of the small cap stocks primed for big returns.

Click here for full details and to join for free
Sponsored
---
Previously the market was in impulsive corrective phase. So recently it seems that the recent corrective wave is over and from here possible longs can be taken out. The price after breaking structure to the upside almost got short to fall within the 4 hour order block and just below that it got exhausted and started to fell down. Just as it was falling down, market being very volatile left inefficiency between buyers and sellers eventually leaving out hidden gap i.e. imbalance. Soon after that market started to redistribute and started consolidating and on 20th September it broke out of the range with quite a huge volume. Now this too left imbalance within the buyers and sellers but it soon was mitigated within the next 2 days as a market to stay healthy its quite necessary.
Now as mentioned before the market made a double top creating liquidity below.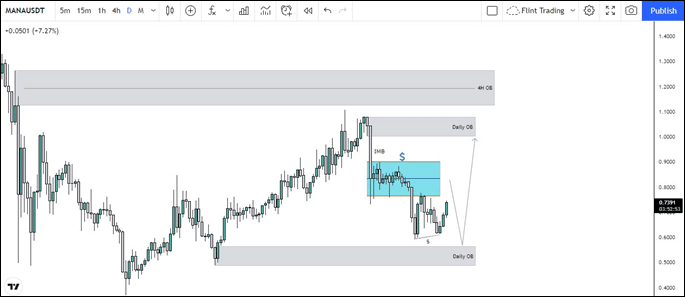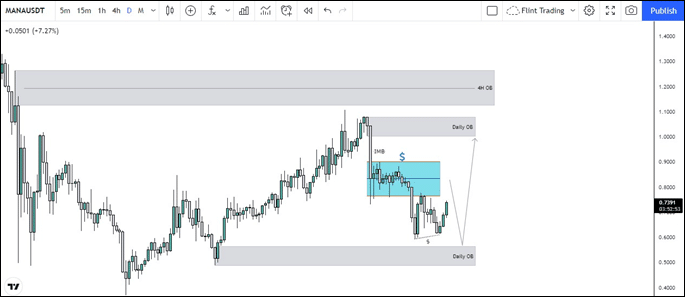 Just below this, a daily order block is in place which haven't been mitigated so the price does have a reason to mitigate that. It's likely that price might soon push down but from where? As market before within a consolidation, it is likely that price might react from the 50% of that range and that may clear the below liquidity and if its eventually gets tapped in within the below order block it might show a reaction to the upside.
The reaction might get terminated at $1.0029 as a daily order block is present there.
Not to forget the liquidity above consolidation might help to drive it into that order block.
If the plan doesn't follow and no evidences on lower time frame are met, it's possible that it might retest $0.3711