Technical Analysis LUNA:
Luna has recently has made its new all-time high, and the price has been bullish till the 9th of October.
Recently on 10th October the price had fallen down resulting in a minor break of structure which shows the first indication of trend reversal.
On its way to the upside i.e bullish move, the price had grabbed liquidity several times along the way making it efficient pricing, but in few candles, misbalances among sellers and buyers have been observed making hidden gaps among them. It is very likely that the price needs to cover them up in order to stay healthy. From 19th August to 6th September the price had been in consolidation, making liquidity both upside and downside. Soon afterwards on 6th September, the price wicked down and took out support traders as well as those traders who were waiting to a break out to either side. This resulted in big moves which can clearly be seen on 10th September which rallied the price up for about 41.67%.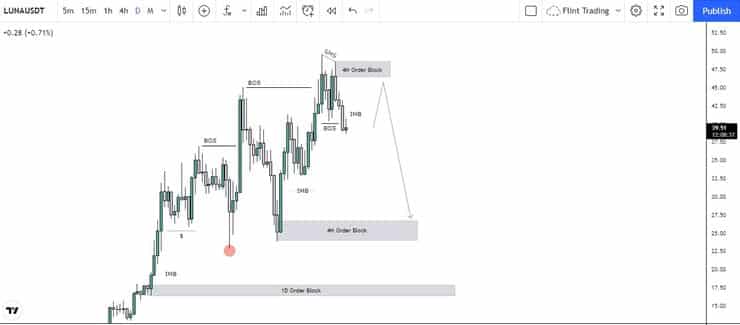 Furthermore, the price later on came back to mitigate the origin of that high volume candle, making previous price an efficient one. Now along the bullish trend, the price has continuously been breaking structures to the upside, but as mentioned above on the 10th of October it seems to have shifted structure.
If the movement of MACD is observed, a clear divergence can be observed which enhances the probability of price to fall. Now things which can drive the price to the downside is an imbalance which is present in the candle of 22nd September.
Furthermore, just before that at the candle of 21st September, an order block is present. Price needs to fill the orders present in this institutional candle in order for it to remain healthy and from there a bullish move can be expected.
Now at the moment, the entry for shorts is not really ideal. As it can be seen that there's some inefficient pricing before this running candle, which needs to be filled by the price and as soon as it does, possible shorts can be taken.
LUNA Current Movement
At the time of writing Luna is being traded at the price of $39.28. It has had a drop of 5.70% in the past 24 hours.