BTT Technical Analysis:
Talking about overall direction of BTT, the weekly and monthly time frame clearly shows that the market is in a corrective phase of the move which resulted in the all time high of this coin.
The higher time frame aligns with the lower time frame which gives a good probability of shorts setups.
Firstly talking about the past, the market has been in range and was consolidating between $0.005033 to $0.003773. This was an accumulation phase after that expansion which started from $0.002208 and lasted till $0.005033.
The market before falling from this range took out both side liquidity which occurred on 3 September 2021 and on 7 September. Now this second manipulated candle i.e. candle of 7th September has left imbalance within it and was quite a momentous candle to the downside which shows footprints of big boys. The market usually retest these institutional candles and fill the imbalances. Another confluence adds weight to this which is liquidity which was visible once this double top was formed and afterwards bearish cookie was observed. It can be expected that market soon which mitigate the above equilibrium of order block i.e. midpoint of orderblock and from there possible shorts can be taken which can last till $0.002990. Now this short term bias is in line with higher time frame bias which increases the probability.
Now if the market continues to fall from here, sells won't be preferred in between as jumping in the trend without considering good entries is useless.
Furthermore in case price grabs liquidity and taps in the equilibrium of order block, market structure shifts should be observed on lower time for possible shorts and if there are none than its very likely that price will mitigate the above supply zone clearly.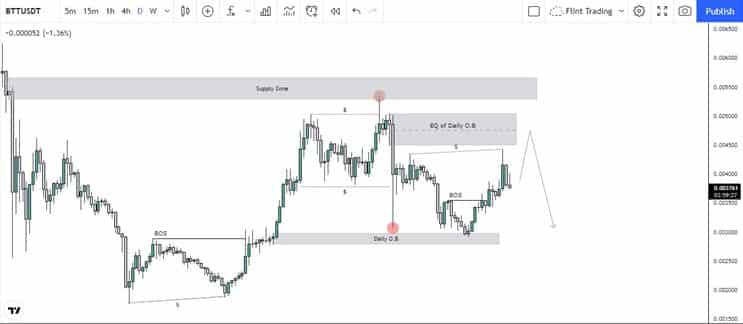 Current Price Movement
At the time of writing, BTT is being traded at the rate of $0.003556 with a decrease of 8.38% within the last 24 hours.
The low within this tenure was around $0.00353 and the high was approximately $0.003908. The coin as being in the watchlist of many traders makes it ranking all the way up to number 57 according to the data release by coin market cap. This coin made its all-time high in the month of April 2021 where it reached an enormous amount of $0.013622
Afterwards the market is balancing out the move which made the all time high. This coin works of Binance block chain with a daily volume of $306,470,433 with a decrease of 28.02% within the last 24 hours.