Binance Coin (BNB) Technical Analysis:
Binance coin (BNB) has been extremely bullish in the past few months. afterwards a similar correction took place as of Bitcoin and Ethereum. The price lately seems to have been recovered from this correction to some extent in short term perspective.
Talking about the short term price action. Market recently on 21st of July 2021 started pushing upside unfolding Wyckoff accumulation schematic.
This has induced a strong momentum of buyers which led the price all the way till $520. The market from 23rd of August to 5th of September started losing momentum to the upside which resulted in a formation of double top which led to a rapid fall in price. This sudden move left imbalance and unmitigated orders within the price which at the moment market might target before pushing to the downside.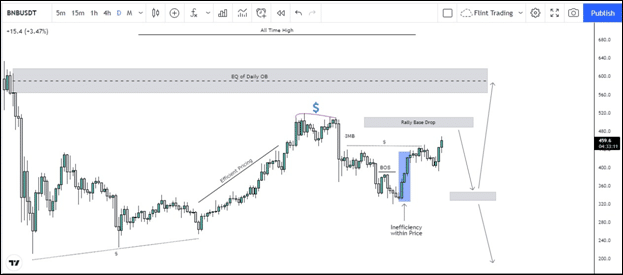 The market currently has grabbed liquidity which was created on its way to mitigate the zone which was just mentioned. The zone is a rally base drop, which can induce sellers in the market.
Now obviously there are possibilities that the market can straight run over this zone and tap in the equilibrium of order block present at $590.1 clearing away all of the liquidity in its way, but as bias should be always on that side where probabilities are more. So at the moment it seems very likely that this rally base drop zone might hold the price and push it to the downside as there are reasons for price to the downside which are inefficient pricing down below which needs to be filled up in order for the market to stay calm and healthy in the future.
An Important zone
The zone of $344 is quite important as at that point all of the inefficiency will be covered and price might continue upside, but it will be determined by how the price will be delivered within that zone.
In case if it holds its likely that it will continue upside all the way till the equilibrium of above orderblock and in case if it doesn't there's a chance that it might continue its way all the way till $190.3 to clear out liquidity resting below.
Seeing the current market situation which has made a lot of previously bears into bulls, it can be expected that the next zone of high price comes faster. As long as Btc.d stays stable or decreases, large caps are going to pump hard which surely means BNB to go high.