General Sentiments
Overall the market sentiments are quite bullish in nature. With BTC getting closer to $60K the other coins are sure to pump as well. ETC coin is surely to go up as well. Currently, the traders are high on "hopium" and it wouldn't be a surprise if the price didn't retrace at all and tried to go parabolic against all technical analysis.
Ethereum Classic (ETC) Coin Technical Analysis:
Ethereum Classic (ETC) coin similar to Ethereum had been extremely bullish in the previous months showing potential to the upside. Recently the price had recovered from the correction to some extent, as on 20th July a structure shift was observed to the upside, indicating that possible another impulse move can take place showing an end to the correction wave.
Talking about the price action after that stop hunt and structure shift to the upside, the market gained momentum which resulted in a 64% increase of the coin's value.
The price when close to the orderblock present at $86.04, unfolded a double top pattern which caused the price to fall down for some reason. Now this double top was very clear i.e. very clear equal highs which shows that much liquidity would have been present above that. This can be a target for price now as price now is showing indications for upward movements.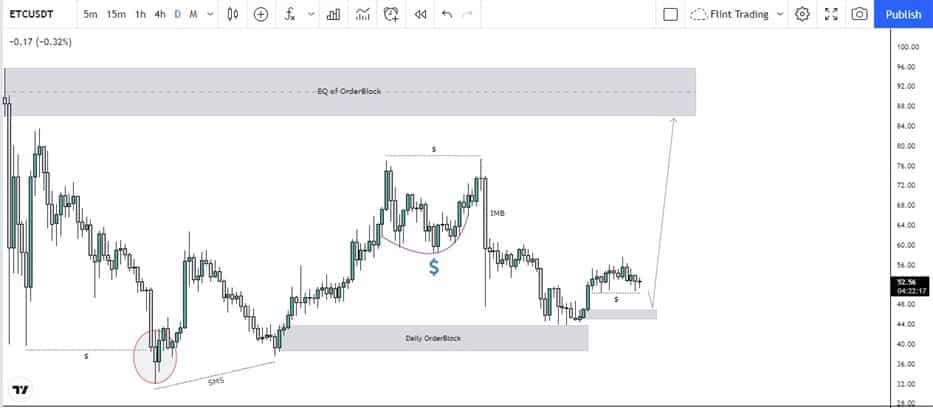 Now recently with that double top, the price has left imbalance within the candle of 7th September. This as well can be a target for price later on in the future.
Now as being market tapping in the orderblock at $43.78, and shifting structure to the downside, indicates that price might now cover up the causes which can drive the price to the upside i.e. imbalance and liquidity.
Now at the moment, the price is specifically consolidating, an ideal entry will be on return on orderblock, which gives another confluence i.e. AMD pattern. On manipulation to the downside, possible entry to the upside can be taken which will cover up the distribution move.
An invalidation will be, if the price instead of continuing from the below order, started pushing down making the demand zone fail, will decreases the probability of price to the upside, as this way market structure won't be favorable and supply will be in control. So this will be confirmed as to how the price delivers within the zone on lower time frame.