Ethereum (ETH)Technical Analysis:
The price action of Ethereum is very similar to what is of Bitcoin. This coin has healed from the correction phase of the impulsive move which created the all-time high of this coin.
In the recent moves, price did reversed very closely from the all-time high, and it seems that it was just there to mitigate the orders which were unmitigated all this time, as price when came close to an all-time high, it got a huge volume of sellers which pushed the price to much extent.
Just as the price was tapping this orderblock, it consolidated for much time and a fake move occurred to the upside which mitigated and now the real move i.e distribution can be expected to the downside.
Now along this distribution price did left some liquidity which would be a target for price later on but at the time being it created a supply pattern i.e. rally base drop. After creating this, the market created liquidity which soon might be grabbed by the price which would lead the price to tap in the supply zone, and from there a push to the downside can be expected.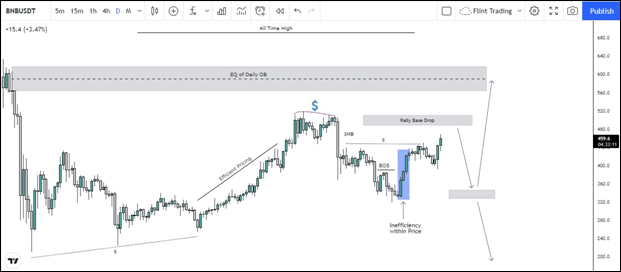 Keeping in mind, that this is being considered on the daily time frame, and its necessary to check out how the price will be delivered within the zone in the lower time frame.
With that being said, talking about the causes and targets of price. Possibilities are that market might push down to at least $2604.27 as this way the imbalance and liquidity within the price will be covered but below that, the price is actually efficient and seems to show no reason for the price to deliver within those areas.
But not to forget that in the extreme down of this efficient pricing, at the level of $1671.87 huge orders might have been sitting as there's a support and much buyers are enrolled from there.
Now about invalidation, in case if this rally base drop zone doesn't hold, it is likely that the market might retest the all time high, but it all depends how and what price will show at that time.
Current Movement
At the time of writing Ethereum (ETH) is being traded at the price of $3600. The price has been steadily rising over the period of a few weeks. Traders think that soon Ethereum won't be trading below $5k.