The coin had created its All Time High in May 2021 and reached a price of almost $0.25691 before rejecting down to a price of almost $0.06073 by losing much percentage of its value. At the time of writing this article, ZIL coin is being traded at a price of $0.09782 with an increase of 5.68% in the last 24 hours. In the past 24 hours, the volume has increased by 24.42% creating the overall trading volume to $73,791,326. The circulating supply is around 11.86B ZIL. It is listed at 91 on coinmarketcap with a dominance of 0.05%
The top exchanges for trading in Zilliqa are currently Binance, Huobi Global, Mandala Exchange, OKEx, and FTX
ZIL Coin – Technical Analysis:
The price action of Zil is quite interesting. The market after its all-time high move started retracing which dropped the value till $0.05078. Market after reaching that point, it actually showed Wyckoff schematic and according to smart money concepts, that was merely a stop hunt by the price. Now both of these confluences made the price rallied up to much extent reaching a value of almost $0.13615.
Along the way, the price way actually quite efficient, the wicks were covering up the bodies, that showed no interest for the price to those levels in the future.
Just as it was rallying up, the price started to lose its momentum, which created consolidation, and as soon a fake out was observed to the upside, the market started pushing to the downside by breaking structure.
Now, this was how the price was behaving in the past. Talking about the recent price action, the price when it created the fake out created a supply pattern i.e. rally base drop. recently price is around that level and it is a possibility if it taps within that, a reaction can be expected.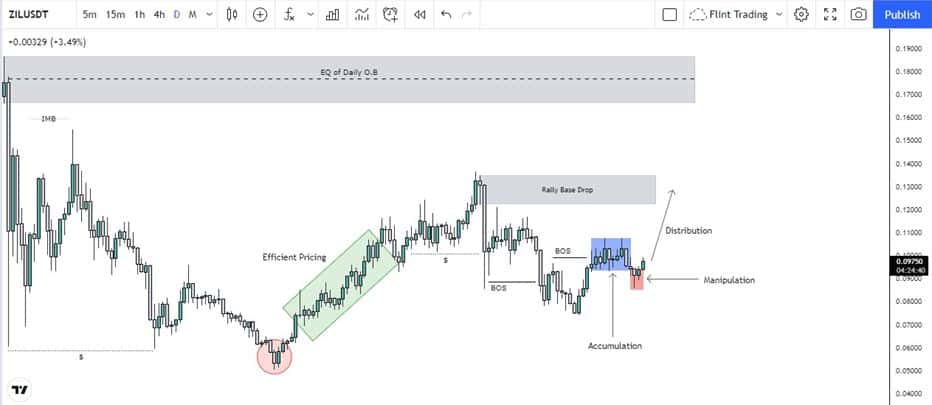 Now recent as the mentioned price was short term bearish, but keeping in mind the bigger picture, this could be merely a pullback of the wave which originated after the correction. As the market shifted the structure to the upside, started accumulating. Now, this is somewhat similar to the previous scenario but opposite. The price has now faked out to the downside i.e. manipulation.
The third phase of this pattern i.e. distribution now can be expected to the upside, which might last till the supply zone which is sitting at $0.12267.
Keeping up with the recent fundamentals, as bitcoin being getting legal within America, Btc might shoot up which might pump ALTS as well including ZIL