According to the monthly, weekly and daily, the TFUEL coin is quite bearish.
Starting from the monthly, the price seems to have made a double top, a reliable one, as the second top of this pattern had a wicked which would have cleared the liquidity resting above it.
Moving down to the weekly timeframe, a clear bullish pole flag was observed in the last which seems to have been over in its all time move, as pole was almost equal to the expansion move. Now afterwards, the bears have been induced within the market with efficient pricing.
Now the key timeframe, i.e. Daily, price as mentioned before is showing hints for downside movements. Being the market in the grip of higher time frame, the preference is to short as it will align with the major trend. The price while pushing down created a disjoint channel creating both sides liquidity which both were soon taken out. The upside fake move took this and the old high as well.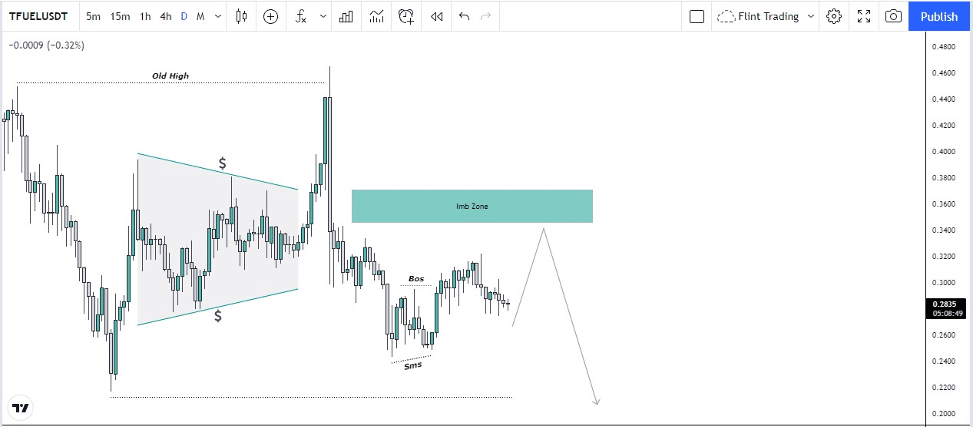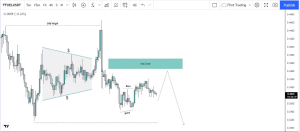 Moving next, this fake out left some imbalance within the candle which haven't been filled till now. It is very likely that if price taps within this, the zone will show it good reaction, as just below that, a liquidity build up seems to have been forming. Now keeping in mind, the structure control is to the top side, so in order to short, a change of structures should be observed before executing. This change of structure of character can be observed on lower time frame, i.e 15m or 1h.
Now in case if price reaches and violates the imbalance zone, it would be an invalidation for short. The price than would have potential to climb up to even $0.4764. Adding more to it, if this zone is held, the ideal target would be the old low sitting at $0.2124.
Current Price Movement
At the time of writing TFUEL stands at the price of $0.2775 with a decrease of 2.60% in the last 24 hours and an overall decrease of almost 20.70% in a month. TFUEL is currently ranked on 74th spot on coinmarketcap. The daily trading volume has also decreased by almost 37.6% in a single day.