Price Past movement
Tellor  (TRB) coin currently stands at one-fourth the price of its all-time high. At the time of writing TRB stands at the price of $43.73 with a decrease of 6.57% in the last 24 hours and a decrease of 15.18% from the monthly close. According to the trading volume, it stands at 388 on coinmarketcap. The market had shown a reversal from around $27. The fact that the current price is nearer to the bottom as compared to ATH gives an idea about how slow TRB is gaining.
Technical Analysis of TRB Coin
As with most of the coins the most basic and strongest support for TRB coin lies around the area of $22-28. We can see that if we divide the chart into two parts we can find the zones to play in. This zone lies around the zone where liquidity has been marked (the structure kind of resemble the triple tops). This zone is around $65 and if we draw a horizontal line we can eventually divide the chart into two parts creating zones to play in. If the price is above this zone then we got the upper zone and if the price is lower, then we get another zone. The price tried to touch the zone here but failed, creating liquidity at this point.
To get even lower the price doesn't have a particular reason (unless Btc says NO). The liquidity has also been hunted (as marked by the red spot). Confluence is the formation of order block on a Daily Time Frame. Support for TRB lies around $40 as well. It wouldn't take much to break this level though.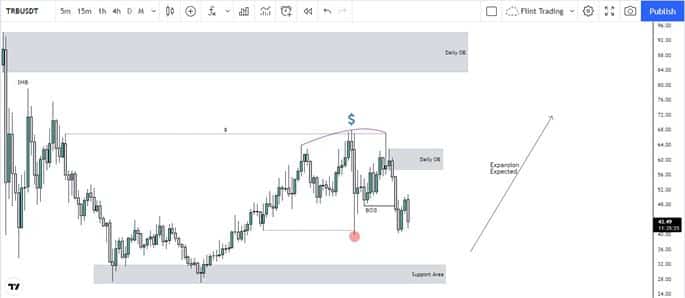 About Tellor (TRB)
Tellor allows dAPPs to get data from smart contracts. The miners ensure that the system is stable who participate in Proof of Census (PoW). TRB is the native token that powers the Tellor network. TRB tokens are provided to miners who keep the system stable. The team also created Daxia which was long and short of different trading pairs. But this needed an oracle to execute, hence Tellor came to existence. With only 2M coins in circulating supply TRB sure can achieve new heights. TRB can be exchanged at some of the top exchanges throughout the world.