Slow Growth after the crash
Telcoin has been the slow gainer in the market after the crash. Before the drop TEL had an amazing run in the market and made a fortune for a lot of people. Most coins have recovered a huge portion that they lost in value after the BTC dropped down. Even when the market got stabilized a lot of coins were pumped as BTC dominance decreased. TEL on the other hand was a very slow gainer and stayed at almost the bottom failing to even achieve 50% of what it had lost during the crash. As such it is facing resistances and need strong volume to breakthrough.
Telcoin Price movements
At the time of writing Telcoin stands at the price of $0.01548 with a decrease of 7.45% in the last 24 hours and an overall decrease of almost 28% in a month. From the bottom, this is less than the twice value and too far from the all time high. TEL established its ATH on 11th May 2021 and reached a price of $0.06499.
Telcoin Technical Analysis
If we look at the chart then we see two movements with a high probability of happening. The fact that there is a trend line and the price hasn't been able to break it. The price formed ahead while touching that trend line. Before that, the price had formed a shoulder after it moved exponentially from the demand zone. Now the price had formed another lower High confirming the formation of the Head and Shoulder pattern. Now it is expected for the price to retrace and tap the same order zone from where it showed an explosive move. Second is the formation of a daily OB. This zone is somewhat very unlikely to happen as it is even lower than the reversal point of the market. But since we are near the bottom and the closest order block should always be taken into consideration (nothing wrong with being cautious, after all its your money and your trade).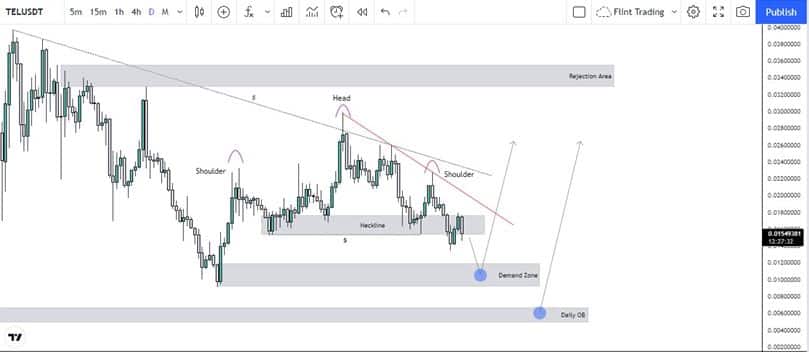 The demand zone lies around the area of $0.010 and the order block formation is around $0.006 caused by the movement on around the end of April and the Initial days of May. Resistances to the price are around $0.018 and then $0.019. Lots of volatility and hence require huge volume to break through the barriers and possibly cause an exponential move but this currently seems highly unlikely (even if BTC pumps, not sure if Telcoin is going to pump hard).