Uniswap is currently on number 13 in ranking and now is being traded at the rate of $21.48 with an increase of 1.02% within the last 24 hours. Not a reasonable growth within the last few hours as the market was in a bearish correction but now can expect an increase in value in the upcoming days.
The total volume is around $306,756,750 and with a market cap $13,118,674,680.
Technical analysis:
Market after making its all time high went into bearish move i.e from 3 May 2021 from the price of $45.127. From that point onwards market has been behaving in a bearish trend doing correction of monthly candles.
Talking about recent price action, how is it performing, and what to expect in upcoming days:
The market started to push upside after 20 July and has been breaking structure to the upside putting the buyers in control, but just as it was about to tap in the supply zone, market created double top and fell down. Now as the double top unfolded, it has left quite a huge amount of liquidity upside which can be targeted now. Market after forming the M pattern, fell down, broke the structure and retested the neckline, and kept falling.
Now after it fell down the price behaved very well, just like before, it created a similar structure i.e. double bottom and hence created some liquidity, but it was soon taken out, giving out a sense that in does not have any reason to keep falling more so it immediately took out the early buyers through a stop hunt which took place on 21 September 2021.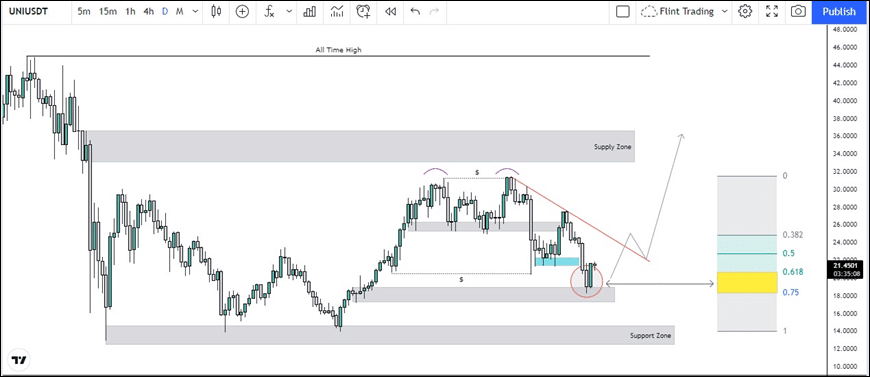 Now one key thing is that just below this liquidity, there is a daily order block which is in confluence with the Fibo golden zone, making more sense that why price should continue upside even more. Besides that, just before this stop hunt, few rejection took place which induced buyers as well which too were taken out, so this move can be considered as manipulation by the institutions and now distribution can take place which is very likely but never sure.
Trendline can't be ignored as it can induced sellers, so a more conservative entry will be a break of that and on retest, a possible long is very likely.
So this is a plan for long bias. Now even with all these, things can go entirely opposite, so in case if this Order block and Fibo zone do not hold, a possible short is likely till below support, and from there if we observe any structural shifts, a possible longs can be expected.
About UniSwap
Uniswap was developed in November 2018 by Hayden Adams which came to facilitate automated trading of decentralized tokens. One of the most widely used DEX platform and a direct competitor to Pancake Swap. Uniswap keeps trading automated and fully open to anyone who is holding tokens. By automating the process, the protocol limits risk and reduce the risk for all parties. This year this token has gained value and fame due to defi and the associated surge in token trading.