CAKE Coin Price Movement
At the time of writing, CAKE coin stands at the price of$20.06 with an increase of 0.022% since the last day and a decrease of 9.28% in the last 7 days. CAKE established its ATH to around a price of $44 in April (2021).  After that the price dropped down to $9.5 before showing the reversal. CAKE as compared to other coins has proven to be a hard gainer. Coins like ADA, LUNA, BNB, SOLANA had proven to be a beast but DEX's have been slow to show strength in general.
Technical Analysis
The price is forming a flag and pole pattern (just like many other patterns). The price had been respecting the trendline for quite a lot of time on DTF and then eventually broke down forming a flag to the pole. It tried to reclaim the level but it couldn't. Now if we draw a Fibo we find the golden zone at around $14. At the same point we find an important zone in place. This was the same block that broke the structure of the price and confirmed the market reversal. At this point the probable chances are that the market might move towards this zone. The Fibo zone also coincides with this ratio, the pole flag pattern is also there. Looking at this point is important as market can bounce from this zone. If the reversal happens then the first major resistance in the run is along $23 and then to the order block formation on DTF around $28.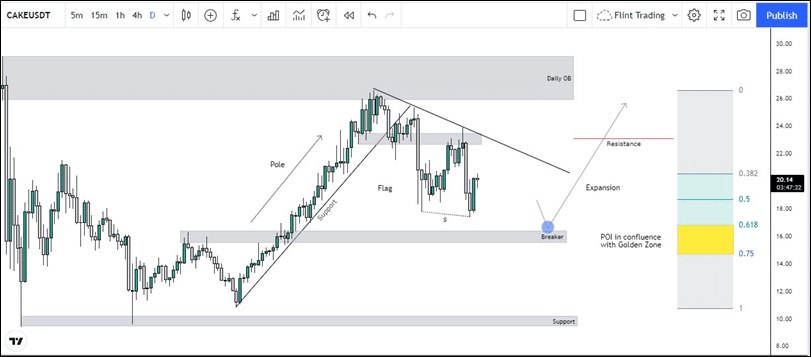 Top 5 EV Tech Stocks to Buy for 2023

The electric vehicle boom is accelerating – and fast. According a new report published by BloombergNEF, annual spending on passenger EVs hit $388 billion in 2022, up 53% from the year before. Like we said, the boom is accelerating – and the time to buy EV-related tech stocks is now. Get our free report, "Top 5 EV Tech Stocks to Buy for 2023".

Click Here to Download the FREE Report.
Sponsored
About PancakeSwap
PancakeSwap is an application of de-fi platform know as DEX (decentralized exchange). One of the most popular DEX out there that allows the exchange of BSC-20 tokens. Its rival Uniswap allows the exchange of ERC-20 tokens. Both of these platforms allows the exchange of huge numbers of different tokens. Since it is a DEX, anyone can list their coins on these platforms. As a result huge amount of scams have also been part of DEX. According to the volume the coin is listed at #34 on coinmarketcap.
PancakeSwap uses AMM (Automated Marker Maker) model to allow trades, provide liquidity and in return the providers get reward, earn fees and get LP tokens. Traders can stake their native token CAKE and get rewarded with Cake.