Technical Analysis:
The price action in the recent phase of Link coin is neither bullish nor bearish.
The market is more of a consolidation phase. From around 7th of August till date it is completely range bounded. Now on a larger scale, both early buyers and sellers might have been taken out, as on the 6th of September the market pushed above the range, and soon on the next day,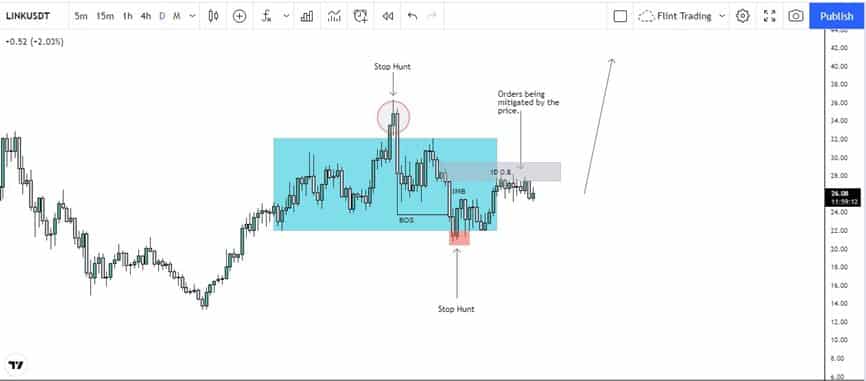 it came back again within the range unfolding a fake out a pattern. The same scenario occurred on 21th of September where price pushed down and again came back within the range taking both sellers and buyers of both sides, breakout and SNR (support and resistance) traders.
Now recently within this range, a supply zone was formed which left an imbalance within the candle which was soon filled by the price. Now ideally a good reaction is expected from the supply zone but in this case price when tapped in the supply zone, it started consolidating, which gives an idea that orders are rapidly being filled and its very likely that soon this supply zone will fail, and the price will head to the upside.
For this an ideal entry will be based on the AMD pattern i.e. accumulation which is currently being done by the market, manipulation to the downside, and from there for distribution move one can enter in the manipulation to get a good percentage from that expansion move.
For targets, the level of $40 is quite important as being a whole number its gets in confluence with the equilibrium of the order block sitting on 18th of May. The first resistance to the coin is around $28.2 and the nearest support is around $25.1
Now if this supply zone doesn't get failed and the structure gets broken which is around $21.89, a possible fall can be expected till $13.5 as there's support and liquidity sitting below that.
Link Coin – Current Movement
According to coinmarketcap At the time of writing Link coin is being traded at the price of $26.21. It had a decrease of 2.32% in the past 24 hours with an increase of only 0.38% in trading volume.
On a long-term holding, Link coin is one of the most fundamentally strong projects in the market that is going to provide sound returns to its investors. According to walletinvestors Link coin has a bright future and they estimate the price of Link to be around $120 in a five-year plan.