Technical Analysis
The price of DOT coin is quite clear at the moment. Talking about the past movement, the market has been in a bullish move from around 21st July. This bullish move was confirmed when the candle of 1st August broke the previous structure to the upside. Afterwards, the price has been continuously pushing upside without leaving any cause which could drive the price down, later on, making the price action efficient.
The candle of 14th September tapped in the supply zone which was formed on the 18th of May. Now the smart money and supply and demand traders would have been expecting a nice push to the downside. A push did unfolded to the downside but not too much. Soon afterwards the price is again around the supply zone. This shows that price is absorbing orders from the supply zone which later on won't be a hurdle for the price to rally up again.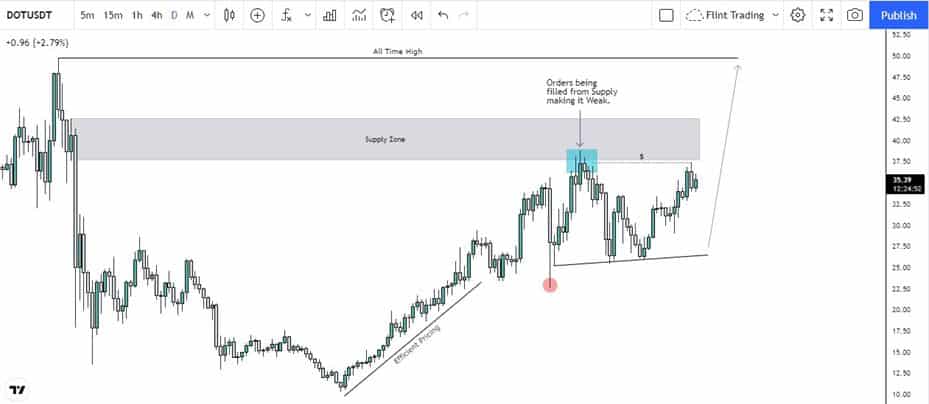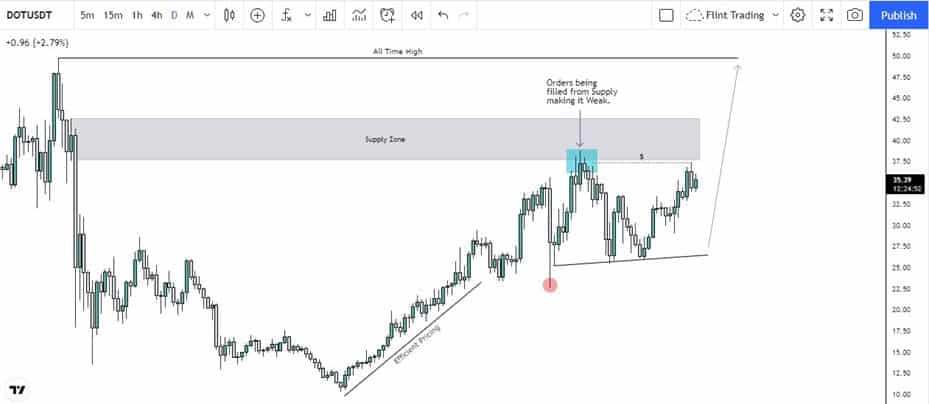 Now recently the price has made a bearish inside bar just below the supply zone which can trigger double top traders to get involved in this. This may drive the price to the orderblock present at $28.39 below which is in confluence with the trendline, from there possible longs can be taken which may last till the all-time high or even a little above that. Keeping quarter levels in mind the level of $30.00 has been broken as its quite likely that the price might go all the way till $40.00 again and then fall down to the desired place from where longs have been preferred.
If the level of $25.48 gets broken to the downside the scenario will be invalidated and longs will not be preferred as the market would have changed structures by that time.
Parachain Auction
But considering the fact that DOT has some really good news in the last quarter of 2021, we can expect for the price to move a lot towards the upside. With the Parachain auction coming near and near the investors might consider it to be a good point of entry that will eventually drive the price upwards.
DOT Coin Current Movement
At the time of writing DOT is being traded at the price of $34.86. It has had a decrease of 3.89% in the past 24 hours. At the moment all the alts are bleeding so it seems reasonable for DOT to follow suit. But many people think that it is the beginning of Alt season which would eventually DOT upwards too.